Id: WR662
Driltech T25K3W Drilling Rig for Sale
Worldrigs ID: WR662
Model : T25K3W Drill Rig
Manufacturer : Driltech
Year : 1994
Condition : Used



Description :



1994 Driltech T25K3W Drill Rig- S/N: 731889
Sullair 840 cfm / 350 psi Air Compressor
CAT 3406 DITA Diesel Deck Engine - rated 430 HP @ 1,800 RPM
30,000 LBS of Pullback
28 ft Head Travel
Pipe Rack Holds For 15 Pipe
(6) Rod Carousel
Rotary Head - rated 89 RPM & 62,600 in LBS. Torque
Jib Boom, Hydraulic Extend With 172 Degree Hydraulic Swing
Hydraulic Winch 7,500 LBS. Capacity
20" Openiing in Table With Hydraulic Adjustment
48" Jaw Type Breakout Wrench
Water Injection Pump is 20 GPM With Foam Pump
DTH Lubricator With 10 Gallon Tank
Fine Feed & Torque Controls
420 ft. of Used Drill Pipe (4-1/2" O.D. X 20ft) & Basic Tooling Included
Gardner Denver 5 X 6 Air Drive Mud Pump on Board
Hydraulic Leveling Jacks
Mounted on a 1993 Ford LNT8000 - VIN #1FDZW82E0PVA18231
Cummins 8.3l 275 Hp Diesel Engine
10 Speed Transmission
18,000 Front Axle
46,000 Rear Axle
Location : USA
Id: WR596
Driltech D40K Drilling Rig - 1974 Built - For Sale
Worldrigs ID: WR596
Model : D40K Drill Rig
Manufacturer : Driltech
Year : 1974
Condition : Used

Description :

1974 Driltech D40K Drill Rig
CAT Diesel Deck Engine - rated 425 HP
Sullair 750 cfm / 150 psi air compressor
25' ft inner & outer Carousels
8000 lb main/jib
Gardner Denver 5x6" Duplex Mud pump (variable hydraulics)
20 GPM water injection pump
Rebuilt hydraulic pumps & splitter
Hot box
good tires
Mounted on a CCC (Crane Carrier Company) Truck
466 diesel engine
Extra: 275' ft of (25' x 4-1/2" x 2-7/8 IF Rods)
23' ft surface collar & mud pit

Location : USA

Id: WR701
Driltech D25KW Drilling Rig for Sale
Worldrigs ID: WR701
Model : D25KW Drill Rig
Manufacturer : Driltech
Year : 1997
Condition : Used



Description :



1997 Driltech D25KW Drill Rig
Sullair 900X350 Air Compressor
W/A CAT C15 Deck Engine (Engine has less than 1000 hours since rebuild)
Mounted a Ford LNT 8000 W/A 300 HP Cummins Engine
8LL Transmission
18,000 Front Axle, 46,000 Rear Axle
Pipe Rack Holds 15 PCS.
Rotary Head 89 RPM, 72,600 LBS. Torque
JIB Boom, Hydraulic extend W/180 degree Hydraulic Swing
Winch, Hydraulic 7,500 LB. Capacity
Drill Table, 20" Opening with Hydraulic Adjustment
Breakout Wrench, 48" jaw type
Remote Control Station
Water Injection, 20 GPM with foam pump
Airline Lubricator
Operators Platform
Fine Feed & Torque Controls
Night Lights
Slip Bushings
With 420 feet OF 4-1/2" X 20 FT. Drill Pipe & Tooling.
It has Good Tires and Runs Strong.


Id: WR546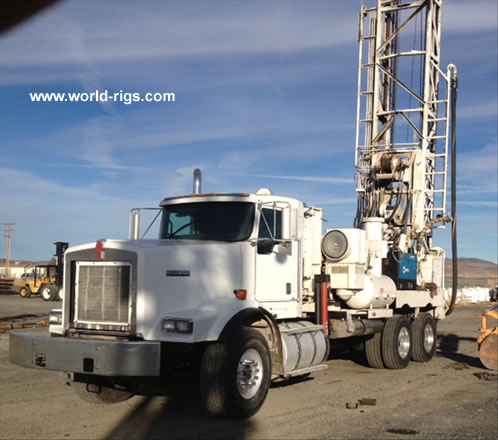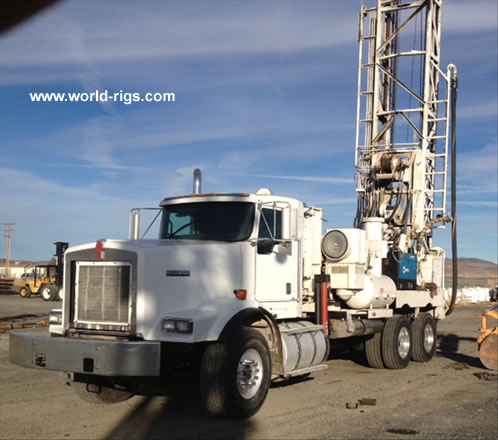 Driltech D40K Drill Rig For Sale
Worldrigs ID: WR546
Model : D40K Drill Rig
Manufacturer : Driltech
Condition : Used

Description :

Driltech D40K Drill Rig
50,000 lbs of pullback
high torque head
No carousels (removed for large diameter Well drilling)
dual winches 6000k single line
18000K single line hydraulic Denison P7 main pump - replaced early p-5
All pumps where rebuilt or replaced in 2015 including main gearbox rebuild
Replaced / upgraded to Mercedes tier 4 (I) 550hp diesel deck motor
900 CFM / 300 PSI air compressor
has a mud line and a true 3" mud swivel added to it so it's "mud ready"
New in 2015 radiator/engine cooler rated at 450hp Additional hydraulic cooler added
Mounted on 2012KW tier 4 435hp Paccar heavy spec truck
dual steering and full locking rears
Heavy duty engine Brake
Rig needs a few new hydraulic hoses and new paint job
Note: this machine is 100% California CARB compliant

Location : USA

Id: WR518
1998 Driltech T25K5W Drill Rig for sale
Worldrigs ID: WR518
Details:
1998 Driltech / Sandvik T25K5W Drill Rig
Sullair 900 cfm / 350 psi - Dual Air Intake Air Compressor (Airline Blowdown)
Caterpillar 3406E ATTAC Diesel Deck Engine @ 450 HP @ 1,800 RPM
Top Head 60,000 lb Torque - New Style Mud Swivel
20 GPM Water Injection Pump (Blue White Foam Injection Group)
Electric Air Line Lubricator for DTH Hammers, Including 10 Glallon Reservoir
Feed System - Down Pressure 20,500 lbs - Holdback 30,000 lbs (Heavy Duty 1-3/4" Fee Chain Group)
(21) of (4 1/2" X 20') Drill Pipe included
JIB Boom (Remote Helpers Station for Independent Control of Winch with JIB Swing and Extension) & (172 degree Swing JIB Boom Group)
5X6 Hydraulic Driven Mud Pump Installation (Less Pump, Hydraulic Motor, Gear Reduction, Accumulator)
A few other accesories included
Mounted on a 1999 Mack Truck DM690S
Powered by a Mack Diesel Engine Model EM7-300-E-TECH
20,000 lb Front Axle, 44,000 lb Rear Axles